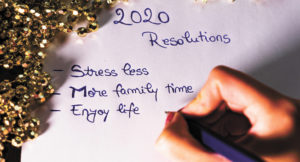 Resolutions are great in theory, but the simple fact is that people usually find them hard to keep. Yet year-after-year, as the calendar turns to January, resolutions are made, many of which are health related, such as exercising more and eating healthier.
Keeping your fitness and health goals on track all year with the right tools, timely cues and meaningful rewards. Those who do may realize a better engaged life and lower health costs.
Start small, make well-being fun and realize results
Information isn't always enough to compel behavior change. People are more likely to do the right thing for their health if it's also enjoyable and reasonably achievable. Look no further than the "piano stairs" experiment done by Volkswagen, in which a set of musical stairs was able to get people to walk up the stairs rather than using the nearby escalator – ostensibly because it was fun.
In addition, the most effective resolutions are those that can actually be kept. Healthier habits as part of a lifestyle or work environment, such as scheduling walking meetings or encouraging people to take the stairs instead of the elevators; these types of habits can have a better chance of sticking than, say, running 5 miles every day before breakfast.
5 Tips for Achieving Resolutions and Goals
1. Don't set unrealistic goals
2. Spend time with a friend or group that holds you accountable
3. Don't give up if you mess up, get back on track the next day
4. Make a plan and adjust as needed
5. Give yourself a break, and take time to reward yourself
No matter which New Year's Resolutions you set for yourself, keep them fun, achievable, stay the course, and make your medical checkups and diagnostic testing a top priority.
UnitedHealthcare
Better health begins by caring for the whole you – body, mind and everything else that can affect your health. In times when it can feel challenging to get the care you need, we want to be here to make managing your health care easier – so you can connect to the personalized care you need, where you need it, when it matters to you.
Medicare insurance can be complicated. United Healthcare is here to help. Learn about the changing world of plans, premiums and benefits so you can make decisions that make sense for you and your family.
Turning 65?
New to Medicare?
New to the area?
We're here to help!
Contact us to schedule an appointment:
Susan Tate
(352) 207-8607
sjtate@gate.net
James Tate
(352) 207-1645
Jamestate470@gmail.com
Your Medicare Solutions Ocala
Source: https://www.uhc.com/employer/news/small-business/new-year-
resolutions-for-better-health-and-lower-costs