Find out More About How Medical Intervention Can Help You Succeed in Your Weight Loss Journey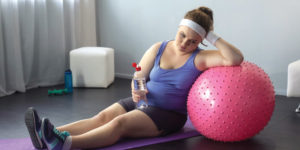 Have you been trying to lose weight and have a more difficult time keeping it off than usual, or have you lost weight only to regain it all back and maybe a few extra pounds along with it? It's not uncommon for diets and exercise programs to work for a while and then all of a sudden, stop working. Maybe we give up due to lack of energy, boredom, or deficient willpower. The failure rate is high, but the truth is, fat is a complicated subject, and it's not all the same. The type of fat known as abnormal fat is the problem and it is caused by hormonal disorder.
Abnormal fat is the "bad" fat, and it is the accumulation of this fat that an overweight person carries. It is deposited all over the body and is most frequently accumulated on the hips, buttocks, stomach, arms, and face. Although abnormal fat is a potential reserve for body fuel, it is not available to the body in a nutritional emergency as is normal or functional fat.
Fifty years ago, a physician in Italy discovered the hormone that helps keep weight off for good by treating the underlying condition, which is abnormal fat accumulation. This hormone is known as hCG.
What is hCG?
Human Chorionic Gonadotropin (hCG) is a hormone that supports and aids normal functions in both the male and female's reproductive systems. Although pregnant women produce increasing levels of hCG throughout gestation, contrary to popular belief, both men and
non-pregnant women produce deficient levels of hCG throughout their lifetime. Under direct physician supervision, your hCG injections can make you look and feel like a new person.
The hCG treatment and diet protocol has proven highly effective for so many individuals over the past century. It's helped numerous patients overcome the battle of yo-yo dieting.
There are a lot of scientific studies and research with hCG and the hCG injections, the diet, and the skillsets that are taught, all work together to make losing weight a success and to keep you going so that you can maintain the weight loss. You will also receive Vitamin B-12 injections to keep your energy levels up.
How does it work?
For the first three weeks you give yourself a daily hCG injection into a fatty area like the stomach, thighs, or upper arms. The needle gauge is very fine, and most people don't feel more than a small pinch. You will be instructed on what to eat and at what times. The restriction eases up after the few weeks. Most patients are not hungry because the hCG injection helps to make you feel full.
This is a serious weight loss program that teaches patients how to keep the weight off for good. This program helps you to take control! It also helps many patients feel and look younger and as an added benefit, their health to commonly improve such as resting heart rate, cholesterol and blood pressure.
At Elysium Med Spa and Medical Practice They offer The Following for Weight Loss:
Weight Loss Consultation
Blood Test, Lab Review, & EKG
HCG Medication & Protocol
Weekly MIC B12 Injections
Custom Meal Plans
2 Weekly Check Ins via Phone or Email
6 Month Follow Up Appointment
Elysium's physician-supervised weight loss and weight management programs are designed around scientifically proven methods to help you achieve your wellness goals.
They combine weight loss medication, medical supervision, and one on one coaching to modify diet, exercise, and behavior patterns. Their program is designed around your individual health needs and lifestyle to ensure you not only lose weight but keep it off long term.
Additional Body Treatments
To complement your weight loss and body image goals, Elysium also offers med spa treatments like Coolsculpting, body contouring, radio frequency treatment and i-Lipo, which is the first direct skin contact laser device designed for fat reduction and body contouring to receive FDA approval for circumferential reduction.
Elysium Med Spa
Elysium's atmosphere offers each of their guests the chance to relax in a tranquil environment, and to rest comfortably, knowing they are in the best of hands. Elysium's Medical Director, Dr. Mahnaz Qayyum, MD is a primary care medicine specialist and has been practicing for 18 years. She graduated from George Washington School of Medicine in 2001 and specializes in family medicine as well as advanced aesthetics.
Please call our office at 407-355-7759, 863-204-8300 to schedule your appointment. To find out more about Elysium Med Spa or their Medical Practice, please visit elysiummedspa.com.