Submitted by Hospice of Marion County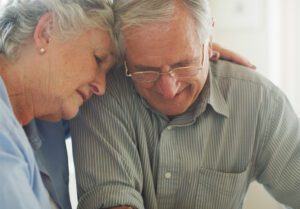 Even when the anticipated death of a loved one occurs, it is never easy. It is normal human nature to experience an array of unexpected emotions from sadness to anger and even debilitating grief, sometimes affecting our mental health and ability to function in our daily lives. When the latter happens, that's a signal it's time to seek professional assistance from someone who can help make the long journey from loss back to healing less difficult.
That's where the services of the Monarch Center for Hope & Healing, at no cost to the community, can make a difference. By preparing for the inevitable, we are better positioned to meet the ups and downs of bereavement with equanimity and grace, lessening our suffering and helping others in our circle. "Living with Grief" is brand new and just one of the many groups focused on guiding people through their grief, whether they received care from Hospice of Marion County or are members of the community experiencing a sudden death. The highly trained facilitators are ready to help people:
• reflect on life with others who are grieving
• share thoughts, feelings and experiences
• learn to cope while preparing for loss
The new support group will be held on the first Wednesday each month at 10:30 a.m. beginning February 3 at the Monarch Center, located at 2895 SE 62nd St., in Ocala.
Other programs available
Those dealing with a loss may take advantage of other support groups such as The Novel Friends Book Club and Expressive HeARTS.
The book club meets on Mondays at two locations, either at the Cates House (formerly Legacy House off SR 200) or the Monarch Center. This spring's selection is "A Grief Observed" by C.S. Lewis, in which the renowned author examines himself with brutal honesty as he reflects on the death of his wife, Joy Gresham. The book club offers a great opportunity for those who are alone, or who feel alone in their grief, to join with others who may be experiencing a similar difficulty. Members are not required to complete all assignments. Discussion, emotional support and camaraderie are the most important elements. Upcoming dates are on Mondays at both locations. Call below for the places and times most convenient for you.
Try Expressive HeARTS — No artistic experience required for this popular workshop. Participants are invited to freely express themselves without judgment through simple writing and craft projects. "It's not the end product that matters, but how your journey got you there," says facilitator Tracie Wiggins. "It's a hands-on program designed to open up the senses with a focus on the emotions of grief where people are able to express themselves in a whole new way. It's very liberating." These sessions are guaranteed to improve mood, inspire well-being and reduce stress. Monday dates begin in March also in two locations, the Cates House and the Monarch Center.
Space is limited; social distancing and mask requirements will be observed. Call (352) 873-7456 to learn more and reserve your space, date and time.