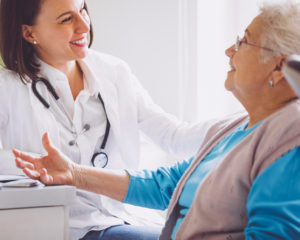 When you, your child, or a loved one has fever, sprains an ankle, gets an ear infection or gets overheated, it can be quite challenging to get a same-day appointment with your primary care doctor, and the emergency room may not always the best choice.
"We focus on giving patients access to the right level of care, in the right place and at the right time."
Choosing between an ER and urgent care can often be very confusing. Urgent care centers could be the best option for minor illnesses or injuries. Urgent care centers are equipped to treat a variety of conditions and injuries with on-site lab and radiology services. Patients may receive care quicker and at a lower cost than a trip to the ER.
Avoiding the emergency room when appropriate, is extremely convenient with BayCare's multiple urgent care locations throughout the Tampa Bay area.
BayCare Urgent Care
BayCare is the leading health system in the region to provide 18 urgent care locations in Pinellas, Hillsborough, Polk and Pasco counties. BayCare Urgent Care offers quick, high quality health care from an experienced team of clinicians for adults and children ages two and older.
BayCare Urgent Care provides convenient access
to high quality, compassionate care for patients with medical conditions including minor illnesses and injuries, flu and colds, sprains and strains, urinary tract infections, ear pain or infections, animal or insect bites, minor cuts, stings and burns.
"We focus on giving patients access to the right level of care, in the right place and at the right time," said Nathan Keith Waldrep, MD, director –
chief medical officer at BayCare Urgent Care. "We're here to take care of those episodic injuries and illnesses that pop up occasionally that don't require someone to go into an emergency room and for those that can't see their primary care today."
BayCare offers a total care experience including X-rays, laboratories, EKGs and dispensing of certain medications. The centers provides school and sports physicals and occupational health services including post-hire physicals, drug screenings, treatment of workplace injuries and vaccinations.
To enhance patient experience, BayCare Urgent Care allows visitors to hold their place online through Save Your Spot. Some facilities also provide extended hours to meet the needs of people with busy schedules.
BayCare Urgent Care is part of BayCare Health System, a leading not-for-profit organization comprised of 15 hospitals and hundreds of other convenient locations throughout Tampa Bay and central Florida regions. Due to BayCare's hundreds of access points, BayCare provides a full continuum of care through its inpatient, outpatient, imaging, diagnostic, behavioral health, laboratory and wellness services – providing seamless and convenient care for patients and their families.
Bay Care Urgent Care
For more information, visit BaycareUrgentCare.org or stop by a BayCare Urgent Care center.
1-800-BayCare
BayCareUrgentCare.org