By Hospice of Marion County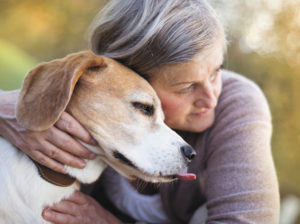 Animals have become part of our lives today unlike in the distant past. We allow them to sleep in our homes (or even in our beds), we buy them special toys and food, we pamper them with play dates and day spas. . .and it goes on – all because they truly are special to us and we absolutely are affected by their passing.
Your beloved pet, the companion who was always there for you is now gone. Loss and the grief that follows is natural because, after all, they are like members of the family. Just as we grieve for our family members who have passed, so too do we grieve for our pets. We know the grieving process is unique for everyone.
It is a healing process that takes time. There is no right or wrong way to grieve, and not everyone can get over the loss the same way and move on with their lives. As we grieve we might find it hard to let go or impossible to get another pet right away, if ever. Others find relief that there is no more suffering, but miss them dearly. It's a process that's different for each person.
We often remember certain antics and playful characteristics of our pets on certain days or holidays. We remember their birthdays, the toys they enjoyed plus their tricks. Just the remembrance can bring tears or laughter at different times.
If this sounds familiar, we know how to help. You are invited to a workshop to guide you on the path to healing where you'll learn to acknowledge your pain and grief, along with steps to help you through it.
Join us at The Monarch Center at Sylvia's for our Pet Grief Workshop on June 3, 2019, from 1:30 – 3:00 p.m. It's an interactive workshop for those experiencing the loss of a pet. Admission is free and please bring a photo of your pet. RSVP to attend: (352) 873-7456.
The Monarch Center at Sylvia's provides free grief counseling to any Marion County resident who has experienced the loss of a loved one due to death. Counseling sessions are offered individually or in groups, and are available for both children and adults. Visit http://www.monarchcenter-marion.com/index.html to learn more or give us a call (352) 873-7456.