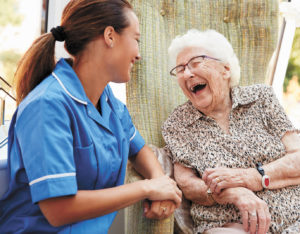 At Pacifica Senior Living, we know that residents who can no longer live independently still want to feel independent.
As a result, our residences offer the warm feel of a cozy bed and breakfast inn, but with important additions: rooms are thoughtfully customized for safety and special needs and expert care is always on call. But as good as it is to have a grab bar handy, this house must be a home. Collections, hobbies and family heirlooms are welcome here; they offer residents a way of choosing what suits them—and that is key to contentment.
Our communities not only feel like home, they are home in every sense of the word. For those who could use a little help with day-to-day activities, Pacifica Senior Living offers the optimum balance between caregiving and life enrichment, all within a warm, elegant setting.
Families are always welcome to visit and join our cookouts, excursions and celebrations—or to just spend a little private time with loved ones whenever they wish.
When the aromas of good cooking fill the air, you know you're home. Our chefs are proud to serve our residents a menu of delicious, well-balanced meals each day, all to be enjoyed in a well-appointed dining room. Further, there are no worries about things like transportation or housekeeping; they are provided as part of a package of amenities that make it easier to live as independently as possible.
Meet the people who make your day.
We select our associates for their outstanding nursing and caregiving skills, and even more for their compassionate and encouraging hearts. It is our mission to ensure that every resident lives a full, cherished life and our caregivers are at the forefront of that effort. Each day, our caregivers offer respectful assistance with walking, dressing, grooming and more. Medical needs are provided for by licensed nurses and medication assistants.
Our well-qualified and caring staff is available to give discreet help on a moment's notice, 24/7.  And to answer everyone's favorite question, our dining rooms offer an ever-changing menu of delicious and nutritious meals.
In your new home at Pacifica Senior Living, it is all of these efforts focused on personalized care that help maintain and improve your quality of life while making ours a job that is easy to love.
With an inviting social environment, our residents often discover their new best friends are right here waiting to meet them.
For information about the options and services available at Pacifica, or to schedule an appointment for a tour, call 352-414-2507 today.
Pacifica Senior Living
(352) 414-2507
www.PacificaOcala.com