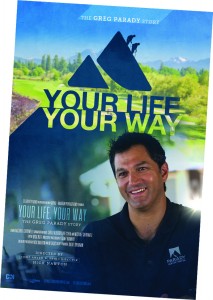 Everybody loves sports, right? Well, maybe not everybody, but there's something about the way sports are structured that just makes sense. Which is why, when Greg Parady sit down with clients to discuss how insurance products, including annuities, can be used to help them prepare for their retirement, he likes to use a sports analogy to break down the three phases of retirement.
He calls them:
• The 1st Half
• The 2nd Half
• Overtime (OT)
Parady explains, "each stage of the retirement game is different – and since each stage is different, each requires a different strategy to help ensure that you can continue to enjoy the life you want to live."
Parady explains more about the first half, second half and overtime analogy to retirement and how Parady Financial Group can help retirees find financial peace of mind.
FIRST HALF = LIVING… DO IT NOW!

Parady calls the First Half the "DO IT NOW" stage of retirement. Why? Because this is when retirees are most healthy, fit and excited to finally not be working! Now is the time to start checking those big things off your bucket list – the cruises, the road trips across the U.S., the travels to Europe, or maybe just spending more time with your extended family.
Of course, activities like these cost money. In the First Half of retirement, your cost of living may actually go up because of consumption.
Living is what this First Half of retirement is all about – you're doing as much living as you possibly can! That's one of the distinctions I like to address in your retirement income plan – income for life vs. income for living. This is a strategy that allows you to live a full life in your "DO IT NOW" years.
During the First Half, our goal is to use annuities to increase your income so you have more than you need to cover your expenses. This provides you with an income flow that is guaranteed by the issuing carriers, which can allow you some flexibility in how you spend your money. But that doesn't mean you're going to spend it all!
Look at it this way: If the cost of gasoline is $4 a gallon and I give you enough for $12 a gallon, does that mean you're automatically going to search for the most expensive gas available? Of course not.
"Front-loading" your income strategy simply means that you have some options to choose from. You have more income than you probably need so you can spend some now – and continue to save some for later.
Eventually the first phase of retirement will end. Maybe it will be a question of health, or energy level, or having checked enough of those bucket list items off.
2nd HALF = BEEN THERE DONE THAT
This is the stage where most retirees want to relax more or stay close to home. Maybe it's getting harder to walk all over Greece and Italy. Maybe you don't want to sit through another 13-hour plane ride. Or maybe you're just content to enjoy life and family right where you are.
In this second phase, the primary concern is financial confidence, and ensuring the longevity of your retirement assets. You want to make sure you have enough money to live, and that your money will last for the rest of your life. Of course you may want enough money to fly the grandkids down for a visit, or to take that occasional cruise with friends, if one comes up . . . regardless of where it's going! But mostly, the Second Half is about MORE FINANCIAL CONFIDENCE. So that's what we focus on.
OVERTIME = INDEPENDENCE
Finally, we move into Overtime stage of retirement, which is a different story. As much as you love your kids and grandkids, you probably don't want to move in with them, right? "OT" is about staying independent. In addition to receiving guaranteed income throughout your life – which is all the way to the end of your retirement – another way to help address the complexities and expense of living a lot longer than you might expect is through life insurance. The primary purpose for life insurance is to provide a death benefit to your beneficiaries. The proceeds can be used to go to your spouse for income replacement or your children and grandchildren as a gift in the event of your death.
In addition to the death benefit, some types of life insurance may offer living benefit riders that allow you to accelerate the death benefit early, and while you're still living. Some life insurance policies allow you to access the death benefits for daily living expenses and healthcare costs—of course, certain conditions must be met, but these contracts are growing in popularity and may add value to your overall strategy. Working with an insurance agent that understands these contracts is very important in the decision making process.
It's also worth noting that life insurance has some of the most attractive tax benefits in the current tax code – death benefits are generally distributed income tax free, cash accumulation inside the contracts generally grows tax-deferred, and can be accessed on a tax-free or tax-favored basis.
There are several types of life insurance contracts. They may be complicated and can be expensive, but I love life insurance. When suitable for you, it is worth every penny, and can offer a wide range of benefits. However, I could write an entire book on the complexities of life insurance. Be sure to talk to an insurance professional about the different types and options to help you determine a policy that fits your needs. Please take your time and be careful purchasing life insurance, especially if you're at or nearing retirement.
I know retirees often don't feel confident spending their "extra" First Half money until they know they have measures in place to help them remain financially confident throughout the Second Half, and be able to remain independent when they reach Overtime. If we don't include a strategy for the end of the game up front, it doesn't matter how much income you receive at the beginning. If you aren't confident that you will have financial vehicles to help carry you through the end of the game, you'll probably be concerned about enjoying it now.
There's a real art to designing a customized income strategy. It starts with identifying and understanding your goals and concerns, and then making sure that those goals and concerns are addressed in the strategy that we design together.
For example, your biggest concern might be, "What will happen if my spouse passes away and there's a drop in income?" If you aren't 100% sure you've protected your spouse down the road, you may not be comfortable enjoying the First Half of your retirement.
I can't tell you how many times the husband will tell me that his primary concern is making sure that there will be enough money for his wife and family when he passes away. If we address this issue head-on, we may be able to eliminate the risk with life insurance. Wouldn't it be nice to know that you could spend as much money as you want to on those "extras," like more travel or flying the grandkids down, no matter how long you live, and know that the ones you care about most will be taken care of financially when you're gone? That's what retirement is all about— and that's what my company is all about!
That's why we start with a strategy; one that looks down the road, and work our way backwards to the present. In a way, we reverse engineer your retirement strategy. We start with Overtime planning, then Second Half strategies, which leaves everyone with a much better view of what the First Half could look like. Then we look to find the right life insurance and annuity products that can be used to help meet your retirement needs.
Our unique process starts at our dedicated Retirement Learning Lounge, which is located in the heart of Brownwood. Learning about financial strategies, taxes, and income strategies can be overwhelming—our no pressure Learning Lounge has been built with this in mind. Our first priority is to teach you about us, and to learn about you.
If your going to maintain financial health, it has to be on equal footing, and it has to be on your terms and at your own pace. The Parady Learning Lounge is a great place to start.
Call 1-800-RETIRED or 352-750-4029 to receive your free copy of Parady Financial Group's documentary or to sign up for the next Learning Lounge.