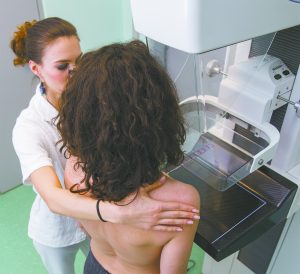 October is Breast Cancer Awareness Month, a time set aside every year to focus on increasing awareness of breast cancer. It's also a special time to honor the 2.8 million women in the U.S. living with the disease, as well as to remember the 40,290 who died from it last year.
According to American Cancer Society estimates, here in Florida 2,880 mothers, sisters, aunts, grandmothers and wives will die from breast cancer this year, and 16,770 more will be diagnosed with the disease. It is the most common cancer among American women, except for skin cancers, and about one in eight U.S. women will develop invasive breast cancer during her lifetime. That's roughly 12 percent of all women. Breast cancer is a disease that touches many of us.
Are You At Risk?
Just being a woman puts you at risk to a certain degree. The disease is 100 times more common in women than in men, possibly due to estrogen and progesterone hormones which may promote breast cancer cell growth. Risk increases as women age, and roughly two out of three invasive breast cancers are found in women 55 or older.
The presence of certain hereditary genes, such as BRCA1/2, can also increase risk for the disease, as well as for other cancers. Genetic testing can determine if a woman carries a mutated BRCA1/2 gene, but tests are only recommended for women who meet specific criteria. Your doctor can help determine if testing would be beneficial.
African American women are more likely than white women to develop advanced-stage breast cancer diagnosed at a young age, and they also have a higher mortality rate.
Risk Factors You Can Change
While certain risk factors can't be changed, such as being a woman, aging or carrying a specific gene, you can lower your risk for breast cancer by:
• Maintaining a healthy weight after menopause
• Staying active ―The Women's Health Initiative found 1¼ to 2½ hours a week of brisk walking reduced risk by 18%
• Stopping hormone replacement therapy
• Reducing alcohol consumption
• Stopping smoking
What Symptoms May Indicate Breast Cancer?
The most common symptom is a breast lump or mass, which is usually painless. A hard mass with irregular edges is more likely to be cancerous than those that are soft or rounded. Less common symptoms include breast changes, such as: thickening or swelling, tenderness, skin irritation, or nipple abnormalities. Breast pain is usually caused by benign conditions and is not a common indication of breast cancer.
Mammography Saves Lives
Mammography is a valuable screening tool that can find cancer early, especially in women over 50. InterCommunity Cancer Center (ICCC) in Lady Lake, Fla., recommends women begin having mammograms at age 40 if they are at average risk, and then continue with annual screenings.
"I encourage women to be proactive about their breast health by getting regular screenings," said Dr. Hal Jacobson, medical director and radiation oncologist at ICCC. "The earlier breast cancer is found, the more treatable it is. I also urge women to protect their health by making lifestyle changes to reduce their risk for breast and other cancers."
Over the last decade, many innovative breast cancer treatments have been developed, offering new hope and healing to patients fighting this disease. InterCommunity Cancer Center has been at the forefront of bringing advanced radiation therapies for breast cancer to the region, giving patients the opportunity to receive these promising treatments close to home where they have the support of family and friends.
"We have made tremendous progress over the past few years in treating breast cancer with new radiation therapies," noted Dr. Jacobson. "It is very rewarding to bring these new treatments to our community so patients have convenient access to the latest therapies that offer the best outcome and quality of life."
For more information about InterCommunity Cancer Center, visit www.ICCCVantage.com.
ABOUT INTERCOMMUNITY CANCER CENTER
InterCommunity Cancer Center (ICCC) has 30 years of experience providing quality, personalized cancer care in the Lady Lake and Leesburg communities and has treated more than 10,000 patients. Radiation Oncologists Drs. Hal Jacobson and Maureen Holasek bring exceptional expertise in treating breast, lung, prostate, gynecologic, skin and other cancers. As part of McKesson Specialty Health, Vantage Oncology and The US Oncology Network―McKesson's physician-led network of integrated, community-based oncology practices―provide patients and practices a best-in-class platform and a robust suite of customizable offerings and services, including comprehensive oncology management services across radiation oncology, surgical specialties and medical oncology while maintaining focus on  community-based oncology care and innovative value-based cancer services. ICCC has access to clinical information and best practices from the treatment of more than 1,000 patients per day enabling highly effective and peer-collaborated treatments. This provides ICCC the ability to offer academic-quality treatment in a community based setting and gives local communities exceptional cancer care services close to home. To learn more, visit www.ICCCVantage.com.