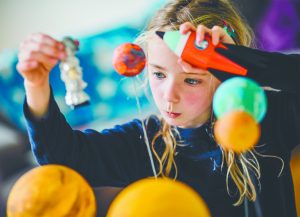 Did you know that 1 in 68 children have Autistic Spectrum Disorder (ASD)?  After High School, 35% of young adults with ASD have never had a job or have continued their higher education degree.  Unfortunately, it's exceedingly rare for elementary and high school students with ASD to be full-time in a general education classroom with other neurotypical students.
In 2011, the Executive Director, Geeta Minocha founded the Kids in Special Situations (KISS), 501(C)(3) nonprofit organization, which offers a much-needed platform for children with Autism Spectrum Disorder (ASD) in regards to social interaction.
Because the public school system is sometimes lacking in their ability to provide significant interaction between students with ASD and their typical peers, Kids in Special Situations fills in the gap by providing an integrative platform for elementary-age students with autism spectrum disorder.  These hosted events allow children with ASD to learn active ways to communicate with their peers, which will enhance their school activities, assist them in communicating with others throughout their lives, and also helps them establish socialization skills that will last into their future.  Neurotypical peers that want to be involved will facilitate playing games, sharing, interacting, and helping those with ASD by offering genuine support during the events. Proactive, positive behaviors contribute to encouraging the development of communication, language, and basic social skills.
KISS's Purpose
Geeta Minocha states, "While the Individuals with Disabilities Education Act (IDEA) ensures that students with cognitive disabilities have access to free public education, our public schools are not always able to integrate these children with their peers in general-education classrooms. This integration has long been seen as vital to the success of students with autism spectrum disorder (ASD); by interacting with abled peers at an early age, those with mild impairments are able to learn social cues that they'll utilize in jobs and relationships for the rest of their lives. Kids in Special Situations (KISS) is here to fill the gap left in the public school system and provide an integrative platform for elementary-age students with ASD so that they can develop effective communication skills and thrive in school and beyond.
While we initially began with the intention of servicing the Central Florida ASD community, the general scarcity of similar integrative platforms has become a much more pressing problem. Our vision is a country in which every child with a cognitive disability is given an equal opportunity to form lasting relationships with his or her peers. We hope you'll join us on our journey to make this a reality."
For years, research has been conducted on the effects of socializing children with ASD with their neurotypical peers.  It's proven effective in helping the autistic child to model the reactions, actions, and responses of children their age.  It's best to start socializing them at an early age between 3-8 years old, but it's never too late to get your child comfortable in these learning situations.
Children with ASD react best when the socialization is done in a fun environment and one that also allows them to take the lead in certain circumstances.  At KISS, their events are themed to coincide with the time of year; for example, an upcoming fall and winter holiday event will utilize cookie decorating in groups or pairs; turkey bowling as a team, and many other activities that allow the children to interact with each other in an exciting environment. Many community businesses donate food for the events, and sometimes a mascot or two will be there to take pictures with the kids and of course to amuse the children.
They Need You!
KISS's mission is to grow not only locally, but also to be able to provide other cities and states with the same educational and socialization benefits that the children in Marion and Lake Counties are obtaining.
They need your help.  There are many ways that you can get involved.  If you'd like to donate or volunteer, please view their website at kidsinspecialsituations.org, visit their Facebook page, or follow them on twitter @KISSOrg.