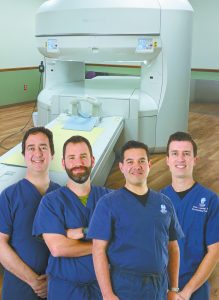 Magnetic Resonance Imaging, or MRI, is a diagnostic tool used to analyze soft tissues, such as muscles, tendons, ligaments, fat, the brain and internal organs, and the intricacies of the vascular system – all without surgery or ionizing radiation, making it one of the safest and most provider-recommended scans. Using a combination of radio waves and magnetic fields, MRI can capture remarkable detail, enabling your Board Certified radiologist and referring clinician to collaborate on a diagnosis. "MRI provides outstanding detail of abnormalities throughout the body," says Dr. Edson Cortes, who has 19 years' experience as a radiologist and is fellowship-trained in musculoskeletal imaging (MSK). "From a torn meniscus to heart problems to tumors, MRI is our go-to test for identifying a wide range of medical maladies."
Like most technologies, MRI has seen advances in its capabilities, and that is why RAO has remained at the forefront by incorporating the latest and most innovative MRI systems. "We offer high-field MRI, which provides superior detail in less time," says MSK fellowship-trained Dr. John Boon, a practicing radiologist for 23 years, "as well as open MRI, which can comfortably accommodate larger patients and adults and children who may be prone to claustrophobia."
"It is a highly valuable test for follow-up breast imaging," says Dr. Brian Cartwright, who is fellowship-trained in MSK, subspecializing in breast imaging. "It gives us remarkable views of suspicious lesions, so we can help confirm or eliminate a diagnosis of cancer, and assist in biopsy while avoiding more invasive procedures."
In his 14 years as a practicing radiologist, Dr. Ryan Tompkins, the Medical Director of RAO's TimberRidge Imaging Center and fellowship-trained in MSK, and subspecialized in breast imaging, has seen ongoing progress in MRI technologies. "Although MRI has been used in medical scanning for decades, the technology has improved so much it remains revolutionary," says Dr. Tompkins. "Sometimes augmented with a contrast agent, MRI delivers highly detailed images and enables quick and accurate diagnoses, safely and painlessly. That makes MRI a tremendous asset to both practitioners and patients."
RAO offers high-performance open MRI at its TimberRidge Imaging Center, and high-field MRI at its Medical Imaging Center and Medical Imaging Center at Windsor Oaks. Once you and your clinician determine which type of MRI best suits your comfort and needs, you can leave the rest to the caring and experienced staff of RAO, proudly serving Marion County for 45 years and counting.
Radiology Associate of Ocala
(352) 671-4300  |  www.RAOcala.com
For more information about MRI services at RAO, visit raocala.com or call 352.671.4300 and a highly trained staff-member will be happy to assist you.