By Karl F Siebuhr, MD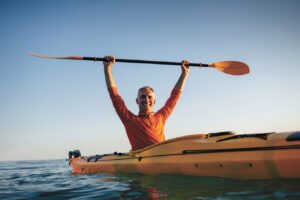 Orthopedic surgery is unfortunately common, especially as people age. This is notably true here in the Sunshine State where individuals are more active in their senior years. With golf, tennis, pickleball and kayaking being some of the most popular means for exercise and leisure, seniors (and younger adults) often succumb to wear and tear issues in their joints, as well as injury.
Many people fear that orthopedic surgeons may push for surgery that's unnecessary, but with Reconstructive Orthopaedics of Central Florida, they very often treat patients conservatively in the beginning stages and monitor the reduction in inflammation and pain before making surgical suggestions.
Conservative treatments Include Injections:
The History of Injections
Many patients do very well with corticosteroid injections and/or viscosupplementation injections. Viscosupplementation was first used in Europe and Asia and was later approved by the U.S. Food and Drug Administration in 1997. The first patient treated for rheumatoid arthritis with steroid injections was in 1948. Soon other patients with arthritis received cortisone, which stimulates natural cortisone production.
Corticosteroid injections
This is an innovative treatment that allows the surgeon to view the precise placement of the cortisone injectable via an advanced ultrasound machine to make certain that all of the pain and tension relieving material is placed accurately. Corticosteroid injections relive inflammation, swelling, and pain both immediately and over an extended period of time.
Viscosupplementation
(also known as hyaluronic acid injection)
Viscosupplementation is an FDA approved gel-like substance that is very similar to the synovial fluid in our joints, Synovial fluid reduces friction by acting as a cushion and lubrication of the joints.
Viscosupplementation involves injecting a lubricating fluid into the arthritic or damaged joint to promote more comfortable movement, reduce inflammation, create a gliding surface for adjoining bones, and slows the progression of arthritis. Viscosupplementation is injected under fluoroscopic technology, which allows the practitioner to precisely see where the gel is being placed. Viscosupplementation is often times added to a physical therapy regimen to help patients achieve optimal outcomes.
Depending on the severity of your conditions, injections can stave off the need for imminent surgery, and in some cases, eliminate that need altogether. It's important to seek out experienced orthopedic surgeons to find customized options that are best for you.
Reconstructive Orthopaedics Reconstructive Orthopaedics Services Include:
. Partial and full knee replacements
. PRP (Platelet Rich Plasma)
. Viscosupplementation
. Hyaluronic injections
. Joint reconstruction
. Trauma/fractures
. Malunions/nonunion
. Degenerative conditions of knee and shoulder
. Hip, shoulder, and knee replacements
Reconstructive Orthopaedics is driven by a personal investment in the success of each and every patient. We demonstrate this by providing state-of-the-art orthopaedic care personally tailored to each patient's individual needs, delivered with technical excellence. The goal is to improve function and restore the highest quality of life possible.
Reconstructive Orthopaedics is committed to the Ocala Community to bring a very unique skill set of care for the seriously injured and wounded to help patients regain and restore their lives so they may regain and maintain a purposeful and joyful life.
Reconstructive Orthopaedics is committed to supporting the Ocala Community by providing high-quality services through Orthopaedic and volunteer services, regardless of socioeconomic status, social status, religion, race, or sexual orientation.
Contact Reconstructive Orthopedics of Central Florida Today at (352) 456-0220.
1500 Southeast Magnolia Extension, Suite 104
Ocala, Florida 34471