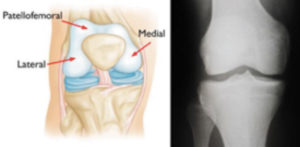 No discussion of knee joint replacement surgery is complete without a discussion of Unicompartmental or Partial Knee replacement surgery. Dr Kerina has been a leader in outpatient joint replacement surgery and Partial or Unicondylar knee replacement surgery for the past 14 years. This has culminated in the development of a new radiographic patient selection criteria for partial knee replacement, the balanced – aligned resection surgical technique for partial knee replacement, and the first 3rd generation Partial knee replacement or MOTO Unicondylar Knee. The MOTO in combination with the Balanced – Aligned resection technique is the first partial knee system that allows the surgeon every intraoperative option available in a Total Knee Replacement while preserving all the patient's ligaments and normal cartilage and bone making the MOTO the first TOTAL UNI.
A Partial knee replacement is a procedure reserved for patients that have knees with intact ligaments, good range of motion and cartilage damage limited to one compartment of the knee. Since the most common form of arthritis, osteoarthritis is usually triggered by an injury to the knee; most osteoarthritis starts its development in a single compartment of the knee. Most patients with osteoarthritis initially develop bone on bone contact in only one compartment of the knee and since ligament damage and scarring are a late manifestation of osteoarthritis these patients are excellent candidates for a partial knee replacement.
There are many advantages to this procedure over a total knee replacement for the appropriate patient. Recent medical studies have shown that these implants are now lasting as long as total knee replacements. Since the procedure does not involve the removal or release of any of the knee's ligaments, these knees feel much more like the patients' natural knee than a total knee replacement and function much more like the normal knee. We describe our partial knee procedure as a restorative not a reconstructive procedure. The surgeon restores the knee to its pre-disease balance. Re-establishing the balance and alignment of the knee markedly slows the progression of the arthritic disease and makes future revision to a total knee unlikely.
Patients with a partial knee replacement not only recover more rapidly than those with total knees, but also have lower mortality rates, less post-operative pain, and lower surgical complication rates.
Therefore, they can achieve greater range of motion, higher functional levels, earlier return to work, and engagement in more activities such as golf, tennis, pickle ball, softball, bowling, and recreational running.
Partial knee replacements are routinely done as outpatient procedures with the patient going home from the ambulatory surgery center or hospital on the day of surgery. This significantly impacts the patient outcome since hospital and skilled nursing facility admission increases the risk of adverse events such as infection and blood clots.
Our outpatient partial knee program has been built in conjunction with our opioid free anesthesia and post-op recovery platform. This allows our patients to engage in post-operative exercise programs in the recovery room since they awaken from surgery more alert and oriented. Minimizing narcotic use in the post-op period allows our patients to better engage with the physical therapists thereby improving their functional outcomes.
Recovery from a partial knee will usually take between 2 and 4 weeks to regain over 90% of your function. The remaining improvement will occur over the course of the following year depending on the level of function that you are attempting to achieve. You will be on a walker and or cane for a short time while you regain your balance. Driving will be possible as soon as you gain adequate control of your leg.
Osteoarthritis is not unlike most medical conditions, the earlier you address them the greater the number of treatment options and the greater your chances of making a full recovery. The old adage of waiting until you cannot tolerate your arthritis pain any longer before seeking surgical treatment is no longer applicable today. Surgical techniques, implant materials, technology and rapid recovery protocols now offer us treatment options not available as recently as 10 years ago.
To further explore the possibility of a partial knee replacement, with Dr J. Mandume Kerina, for the treatment of your bone on bone osteoarthritis please contact UNOVA Health at: (352) 973-4070 | unovahealth.com