By Physicians Rehabilitation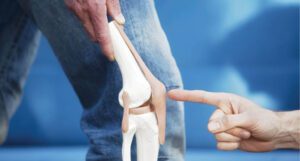 Articular cartilage provides a smooth cushioning between bones at the joints. When cartilage is damaged by injury or disease, bones can rub directly against each other, causing pain and inflammation, which can eventually result in arthritis. It progressively gets worse, so treating it is imperative.
Can you regenerate joint cartilage?
Many orthopedic specialist will tell patient's that cartilage cannot be regenerated due to outdated thinking and the hope that patients will succumb to surgery; however, stem cell therapy actually is proving to be an effective treatment for regeneration of tissue, including joint cartilage.
Stem cell therapy
Stem cell therapy offers the opportunity to repair and heal worn out and damaged tissues naturally, without the need for surgery. Stem cells modulate the immune response to injury, regenerate musculoskeletal tissues and prevent tissue damage. The result is improved mobility, better quality of life and better outcomes.
Stem cells have the unique ability for self-renewal, and mesenchymal stem cells (MSCs) have the potential to differentiate into bone, cartilage, ligament and tendon tissues which the body uses to maintain, repair and rebuild tissue. MSCs can be obtained from bone, tendon, skin, adipose tissue, umbilical cord blood and amniotic fluid.
Studies have focused on the ability of stem cells to promote fracture healing, regenerate articular cartilage in degenerated joints, heal ligaments and tendon injuries, and more. Stem cells are used in lieu of surgery, to enhance nonsurgical treatments and to augment healing as part of the surgical procedure. The use of stem cells to regenerate tissues is called regenerative medicine.
Stem Cell Therapy Details
MSCs work by replacing impaired and failing cells with healthy cells to heal and maintain damaged tissues. They naturally release anti-inflammatory chemicals that decrease inflammation and pain. MSCs create new blood cells to improve healing, especially in tissues with a poor blood supply including cartilage, tendons and ligaments. The result is tissue regeneration, pain relief, and improved function.
Stem cell therapy is the procedure that harnesses the regenerative capacity of naturally occurring stem cells and targets them to specific areas for renewal. We can treat a diverse range of injuries and conditions with stem cell therapy. Stem cell therapy is regenerative joint preservation and is a vital and viable option to eliminate pain and restore function, safely and with low risk.
Benefits of stem cell therapy
Stem cell therapy provides accelerated healing and pain relief that can last years, and in some cases, can permanently eliminate pain and disability. The goal is to reduce pain, improve function and eliminate the need for surgery. Stem cell therapy can reduce the need for extensive physical therapy and rehabilitation, usually needed after surgery or an injury.
Stem cell therapy can help prevent the onset of arthritis and help patients avoid joint replacement surgery. It is the only therapy that can halt the progression of osteoarthritis.
Are Stem Cells Ideal for Everyone?
If you suffer with joint, tendon, or ligament pain or joint arthritis, and desire to improve your quality of life, and avoid invasive surgery and potential complications, stem cell therapy may be for you. Not everyone is a candidate for stem cell therapy. The only way to know if you are a good candidate is to schedule a consultation.
Each patient receives a complete evaluation to diagnose their condition, and determine their suitability for the treatment, including review of the patient's medical history and physical examination. Imaging studies will be necessary to rule out other possible diagnoses.
Stem cell therapy can treat the following:
• osteoarthritis of the knee, hip, shoulder, wrist, ankle or elbow
• damaged cartilage and bone within a joint
• spine pain
• muscle, tendon and ligament tears
• labral injuries of the shoulder and hip, and
• other joint conditions that can benefit from stem cell therapy
Treatment Can Be Maintained Over Time
Stem cell therapy can have significant lasting results, but in some cases, it is best to think of it as maintenance, much like an oil change. Don't wait until your arthritis or joint inflammation gets worse. It depends on the severity of the condition, but seeking treatment early is ideal, and it helps to maintain injections as recommended by an expert in regenerative medicine.
What Our Patients Have to Say
"My husband had treatment on both knees and a shoulder and had very good success at age 85. Caring professionals include injections and physical therapy."—Sandi S.
"Pain level coming in was an 8, going out a 1. I had my left knee operated on and I didn't want to go through that pain anymore, so I wanted to try something different…getting in and out of the car, walking stairs was a catastrophe…Now I'm hitting the golf ball better than before."—Andre F.
"When I first came here to Physicians Rehabilitation, my pain level was between a 9 and a 10, and now my pain level is next to nothing."—Leann B.
Physicians Rehabilitation
At Physicians Rehabilitation, every patient receives a customized treatment plan based on their needs and is designed to produce superior results. The health-restoring benefits improve quality of life and in some cases, patients can avoid surgical treatment and lengthy recovery.
Our goal is to identify the source of your pain, promote healing and eliminate your pain. We begin by giving you a thorough examination and quickly address outward symptoms of pain, such as inflammation, while gathering medical history and evaluating your symptoms to get to the root of your pain and dysfunction. Our therapists have found that these advanced technologies, along with a specialized physical therapy program specific to the individual condition, makes for extremely successful pain relief treatments.
For your convenience, we have offices in Fort Myers, Lady Lake, Naples, Port Charlotte and Sun City Center Florida. Contact us to learn about how stem cell therapy can restore your health.
CALL PHYSICIANS REHABILITATION TODAY!
Summit Medical Park, 733 CR 466, Lady Lake , FL 32159
Cline Office Suites, 4076 E SR 44, Wildwood, FL 34785
855-276-5989 | www.PhysiciansRehab.com