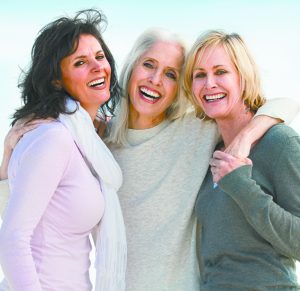 Not only is society and the media less apprehensive to talk about vaginal health issues, but advancements in medical technology are helping countless women who have been suffering for years – mostly in silence.  Indeed, you can't watch television these days without a spokeswomen talking about such things as leakage, dryness, or intercourse pain, many adding humor to once closeted, yet common issues.
Leading the charge to help women in Central Florida is Christopher Walker, M.D., founder of UroGyn Specialists of Florida, who has treated women with gynecological, vaginal mesh removal and urogynecological matters for more than 20 years.  In fact, Dr. Walker is one of only a handful of physicians who specialize in gynecology, urogynecology (female bladder/fecal health) aesthetic medicine (laser spa for face and body) and vaginal rejuvenation, all under one roof.
Dr. Walker attracts patients from all over the nation and worldwide.
"Consequently, our patients can avoid having to visit multiple physicians to get the help they need. Patients get three providers in one — a gynecologist, female urologist and cosmetic gynecologist, ultimately saving patients time and money, and protecting their privacy," Dr. Walker said.
Dr. Walker is double board-certified in gynecology and urogynecology, which puts him in the unique position to treat not only the gynecological needs of his patients, but also the urogynecological needs, such as dysfunction of the pelvic floor and urinary incontinence. He is an award-winning
physician, receiving Top Doctor Awards and Most Compassionate Awards from both patient and peer reviews.
"We're excited that we can perform procedures all under one roof," said Sarah St. Louis, M.D., a board-certified urogynecologist and the newest member of the growing UroGyn family of experts.
Women's gynecological needs change throughout their lives, and Dr. Walker and his highly qualified team aim to provide the best experience for their patients, regardless of what stage of care they are seeking.
Among the therapies offered safely onsite in the offices of UroGyn Specialists of Florida are the
following:
Gynecology
• Ablation: menstrual symptom relief
• Essure: permanent contraception
• Fibroid treatment: assisted with onsite ultrasound
Urogynecology
• Incontinence relief: treatments offered for a range of dysfunction
• Vaginal mesh removal: national experts in care of complications from prior mesh insertion
Sexual Wellness
• Computerized Kegel therapy: computer-aided rehabilitation of pelvic floor muscles
• ThermiVa: nonsurgical rehabilitation of pelvic floor muscles and vaginal tightening
• Labiaplasty: cosmetic enhancement of the vaginal area
• Bioidentical hormone therapy: natural relief of menopause symptoms
Anti-Aging/Aesthetic Medicine
• New laser treatments for wrinkles, loose skin
• Vampire Facials, using your own DNA to boost collagen
• Endymed, new answer to liposuction without the scars
• O-Shot (enhance your libido)
UroGyn Specialists of Florida, the multiple award-winning practice that serves Central Florida women with both gynecology and female urology care, is very pleased to announce the recent addition of Dr. Sarah St. Louis, FACOG, to the Lake County office, located in The Villages.
Sarah St. Louis, M.D., FACOG, joined the practice of UroGyn Specialsts of Florida and opened the newest Urogyn location in The Villages, (inside Mulberry Integrative Medicine) in October 2016.   She received her medical degree from Howard University College of Medicine, and completed
residency in obstetrics and gynecology at Hofstra Northwell School of Medicine in New York with subspecialty training in urogynecology and reconstructive surgery at Atlantic Health System in New Jersey. Dr. St. Louis has published numerous abstracts and peer-reviewed publications on women's health care. She is dedicated to caring for each individual woman and working together as a team.  The daughter of well-
known Orlando neurosurgeon Dr. Phillip St. Louis, she brings her father's passion for medicine to the care of women's health concerns.  Dr. St. Louis has expertise in pelvic floor rejuvenation, bladder function and sexual wellness and is the only board-certified urogynecologist in Lake County.
Please help welcome Dr. St. Louis to the area by making an appointment today. Call 407-3330-GYN (496) or book online 24/7 at BestUroGyn.com.