By Alexander C. Frank, DC, DACNB, FABES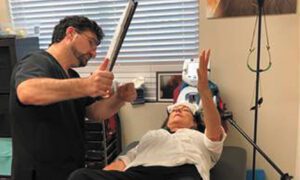 "Your brain knows what YOUR senses tell it." Breakthroughs in clinical neuroscience have revealed that the brain is able to change and learn throughout one's entire life, including after an injury or disease process. This ability of the brain to change in structure and function is referred to as neuroplasticity. Dr. Frank applies his extensive knowledge of human anatomy and physiology to utilize drug-free treatments that drive the process of neuroplasticity. In layman's terms, his treatments "up-grade the software [brain, nervous system] to improve the hardware [muscles, etc.] output/function".
How Functional Neurology Differs
Although its applications have been practiced for generations, functional neurology as a health care discipline is a relatively new concept. In recent years it has gained significant momentum and wide acceptance as a proactive brain performance strategy and a powerful treatment option for disorders of the nervous system. The practice of functional neurology spans multiple disciplines, including chiropractic, psychology, conventional medicine, optometry, audiology, and physical and occupational therapies.
The key difference between Dr. Frank and a medical neurologist lies primarily in their approaches to treatment. A medical neurologist is focused on the diagnosis of structural pathology and utilizes pharmaceutical and surgical interventions to treat disease—Dr. Frank views his clients as diamonds, evaluating all facets of their health. Once the root cause(s) [suspects] of their health issues are identified, treatment plans can be tailored to that individual's needs.
Dr. Frank underwent both doctoral (chiropractic college) and post-graduate (chiropractic neurology) training, along with completing a 2-year internship with one of the top Functional Neurologists in the world, as part of a rigorous certification process. The intensive training undertaken ensures a higher level of clinical efficacy proficiency.
As an artist or chef uses many tools to bring their inspirations to life, Dr. Frank has a virtually unlimited arsenal of cutting-edge treatments and technologies in order to benefit the needs of any individual. Anything that can be used to stimulate the nervous system (e.g., vision, sound, smell, movement, balance, etc.) can be used as a method of neurological modulation (e.g., Drug-Free) therapy. These modalities are directed by some of the most advanced and clinically reliable assessments available today. Programs are supported by Functional Medicine approaches where metabolic function is assessed and improved with specific diet and nutritional interventions.
Who Can Benefit?
Dr. Frank has worked with a broad spectrum of patients: from brain-injured premature infants to Senior Olympic Centurions. Any brain can benefit from evaluation and training with Dr. Frank: Whether you are burdened with a chronic condition that you have been told to "learn to live with," have a child with developmental issues, are facing age-related memory loss and cognitive decline, have vertigo/dizziness or are looking to elevate your current level of academic, or athletic performance, Dr. Frank's brilliant insight and cutting-edge tools can help you or a loved one to meet and exceed health care goals and/or improve quality of life.
About Dr. Frank
I understand that no two people are quite alike, and as such, no two injuries or pains manifest themselves identically. That's why I offer a diverse range of neurological tech­niques, chiropractic adjusting techniques, treatments, therapies, along with nutritional support, to better assist you and your loved ones' on the road to optimal health & maximum potential.
Dr. Alexander Charles Frank is the only Board Certified Chiropractic Neurologist in the North Central Florida area. He also holds a fellowship in Electrodiagnostic Specialties. Current course works includes Fellowship studies in Traumatic Brain Injury Rehabilitation, Vestibular and Concussion Rehabilitation, Childhood Developmental Disorders, and more.
Dr. Frank graduated Cum Lauder from Life Chiropractic College West. He has interned and trained with the top chiropractic neurologists and functional medicine specialists in the world. in order to manage the most complicated of health issues.
Dr. Frank's comprehensive evaluations assess for the root cause(s) of his clients health issues. Treatment plans are then tailored to an individual's specific needs. In addition, Dr. Frank utilizes the most cutting-edge diagnostics and rehabilitation technologies. The Dx100 Video Oculography (eye tracking) systems helps to detect traumatic brain injury (concussion), dizziness, and other issues. The RightEye system assess for reading proficiency, along with other eye tracking issues that can impair both academic and athletic performance.
Dr. Frank has always felt an inner drive to serve his community. He has been a part of the Fire Rescue and EMS service since 1989, beginning at the age of 13. He received his state certification as a Fire Fighter II and Emergency Medical Technician in 1994. Dr. Frank served with Alachua County Fire Rescue during his studies in Gainesville, FL. He continued his Fire-Rescue career after college with the city of Plan­tation (FL) Fire Department, receiving the Rookie of the Year award for his Battalion in 1997.
To Schedule your appointment with Dr. Frank, please call the Florida Functional Neurology Group at (352) 571-5155.
(352) 571-5155 | ffng.org