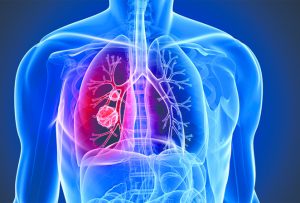 November is Lung Cancer Awareness Month, and InterCommunity Cancer Center, a leading provider of advanced radiation therapy, is encouraging people who are at high risk for the disease to talk to their doctor about screening, as well as understand risk factors and preventative measures they can take to reduce their chances of developing the disease.
There are two major types of lung cancer, small cell lung cancer and non-small cell lung cancer. Together these two diseases comprise roughly 13 percent of all new cancers diagnosed and approximately 27 percent of all cancer deaths. Non-small cell lung cancer (NSCLC) is the most common type of lung cancer. It usually grows and spreads more slowly than small cell lung cancer. Small cell lung cancer (SCLC) typically starts near the center of the chest in the bronchi and is rare in non-smokers.
Lung cancer is more common in older people, and roughly two-thirds of newly diagnosed patients are 65 or older, while less than 2 percent are below the age of 45.
In 2015, an estimated 158,000 deaths in the U.S. occurred from lung cancer, according to the American Cancer Society (ACS). Here in Florida, 12,000 people are expected to die from the disease this year, and more than 17,000 new cases will be diagnosed. More people die from lung cancer every year than from colon, breast and prostate cancers combined. Obviously, this is a disease that touches many families.
Are You At Risk?
InterCommunity Cancer Center encourages all adults, not just smokers, to learn more about the various risk factors that can increase the odds of developing lung cancer. Smoking is at the top of the list, and according to the ACS, roughly 80 percent of lung cancer deaths are smoking-related. A smoker's risk is several times higher than a non-smoker, and the risk is greater the longer a person smokes. Dr. Catalno at ICCC advises that, "Quitting smoking is easier today with novel new methods now available." Secondhand smoke can also increase the risk of developing the disease by as much as 30 percent.
The second leading cause of lung cancer, and the primary cause among non-smokers, is exposure to radon, a colorless, odorless, tasteless radioactive gas that occurs naturally as a decay product from the breakdown of uranium in soil and rocks. Other factors can also increase the chances of developing the disease, such as:
• Exposure to asbestos
• Chemicals in the environment
• Arsenic in drinking water
• Air pollution, and
• A family history of lung cancer.
High Risk People Should be Screened
"Lung cancer is a very challenging disease for patients to battle," said Dr. David Catalano, radiation oncologist at ICCC in Lady Lake, Fla. "Like all cancers, early detection can lead to a better outcome, so we encourage all people who are at high risk to talk to their doctor about getting screened. If detected early, the 5-year survival rate can be as high as 55 to 75 percent, a significant increase compared to diagnosis at later stages."
A recent study found that low-dose computed tomography (LDCT) screening followed by two more annual screens decreased lung cancer mortality by 20 percent. Based on the encouraging findings from this study and other credible research, in 2015 Medicare coverage was approved for low-dose CT lung cancer screening for long time smokers and other high risk patients with no signs or symptoms of the disease.
"This is a significant benefit for high risk people in the Medicare population, as we can now be proactive with this group in trying to detect the disease in its early stages," noted Dr. Catalano.
Today exciting new targeted therapies and advanced radiation treatments are helping lung cancer patients become long-term survivors. The cancer specialists at InterCommunity Cancer Center have deep expertise in treating lung cancer, and the practice is at the forefront of bringing the very latest cutting-edge radiation therapies for lung cancer to the region, providing hope and healing to patients in our community who are battling this difficult disease.
For more information about InterCommunity Cancer Center, visit www.ICCCVantage.com.
ABOUT INTERCOMMUNITY
CANCER CENTER
InterCommunity Cancer Center (ICCC) has 30 years of experience providing quality, personalized cancer care in the Lady Lake and Leesburg communities and has treated more than 10,000 patients. Radiation Oncologist, Dr. David Catalano, has exceptional expertise in treating breast, lung, prostate, gynecologic, skin and other cancers. ICCC is affiliated with Vantage Oncology which, along with The US Oncology Network, is part of McKesson Specialty Health's physician-led network of integrated, community-based oncology practices. This affiliation provides patients and practices a best-in-class platform and a robust suite of customizable offerings and services, including comprehensive oncology management services across radiation oncology, surgical specialties and medical oncology while focusing on community-based oncology care and innovative value-based cancer services. ICCC has access to clinical information and best practices from the treatment of more than 1,000 patients per day, enabling highly effective, peer-collaborated care. This empowers ICCC to offer academic-quality treatment in a community-based setting, providing exceptional cancer care close to home. To learn more, visit www.ICCCVantage.com.